16 Drinks Named For Authors And Their Books
For actors, the ultimate sign of fame is that star on the Hollywood Walk of Fame. For writers, it's more than just the Pulitzer Prize. It's something simpler, actually. You know you've garnered the respect of your peers when you have a drink named after you.
They say that alcohol brings out the artistic side in you. These authors can attest to this very fact. In fact, Edgar Allan Poe hardly wrote without being inebriated. He was drunk most of the time. And while his stories were generally dark and dreary, no one can argue with the fact that he's become a legend. He's the Shakespeare of the twisted world. Well, he doesn't belong to a class of his own. Below is a list of 16 authors who've written novels while their brains may have been infused with alcohol. It apparently brought out the best in them that others decided to concoct a drink based on these talented writers' names or famous works.
Now, we certainly can't tell you if the drinks were real. However, feel free to follow the recipes and see if they're as good as they sound or if they just taste like crap. Just don't judge these authors based on the drink's taste. Everyone's palate is special. Writers, in particular, needed stronger libations to fully bring out that story and make it as real as possible.
Host a cocktail party and try each one on the list. Your liver may need some TLC after, but heck, at least you've tried living like these famous folks who have a few titles in the best sellers list.
1. The Ernest Hemingway Special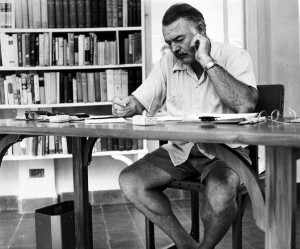 Recipe:
1 jigger absinthe
1 bottle champagne
Add one jigger of absinthe on a flute and slowly add the champagne. Mix until you get the perfect opalescent milky look.
Ernest Hemingway must have had a visit from the green fairy when he made this drink. The word absinthe should tell you that this drink is potent. He said this was the very drink that inspired him to write a scene for Death in the Afternoon. No doubt he must have lived it and wanted the whole world to see how wickedly adventurous his mind had become.