10 Halloween Cocktail Recipes To Get Your Costume Party Started
|
Tis the season for ghouls and ghosts. And lots and lots of drinking to warm those chilled bones of yours. Here are 10 creepy cocktails to get your Halloween bash underway.
1. Jack O'Lantern
This cocktail's garnish makes it resemble a Halloween pumpkin. But there's no trace of pumpkin in it's flavor. Jack O'Lantern is citrusy and delicious.
Ingredients:
1 ounce Hennessy VSOP Cognac
1 1/2 ounces orange juice
1/2 ounce ginger ale
1/2 ounce Grand Marnier orange liqueur
Orange wheel and lime twist for garnish
2. Witch's Brew
This eerie beverage looks like it has brewing in a witch's cauldron.
Ingredients:
1½ ounce Coconut Tequila
2 ounces Pineapple-Orange Juice
½ ounce Blue Curacao
Marichino Cherry
Fresh Ice
3. The Midnight Mary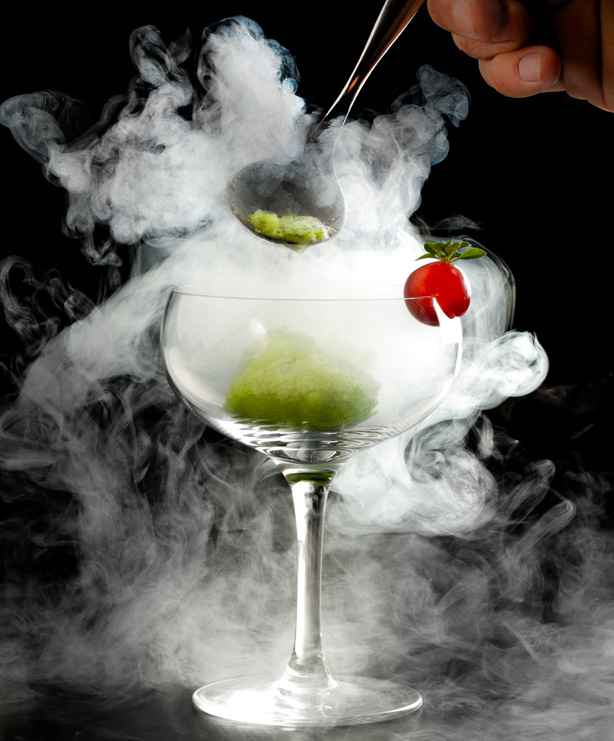 Who needs a fog machine when you have this cocktail? This mixed drink isn't for the average at-home bartender, but the effect it produces is totally worth the extra trouble.
Ingredients:
1 1/2 oz North Shore Aquavit
1/2 oz Benedictine (not B&B)
3/4 oz lime juice
1/4 oz galangal syrup
1/4 oz simple syrup
1 1/4 oz clarified tomato water
Fresno chile bitters
Nitrogen frozen basil foam
Garnished with heirloom tomato and pigmy basil
Place halved tomatoes in the bottom of a mixing glass. Add lime and simple syrup. Muddle well to extract liquid from tomatoes. Add remainder of ingredients. Add ice, shake well, and pour through mesh strainer (to collect solids) into a chilled coupe.
4. Candy Appley
No bobbing for apples needed here. Just absolute deliciousness. Consider your face apple-water free.
Ingredients:
2 ounces XXX Salted Caramel Corn Whiskey<
1 ounce Berentzen Apple Liquer
1/2 ounce Cranberry Juice
Martinellis Sparkling Cider
Coconut flakes
Apple wheel (optional)
Rim a double old-fashioned glass with coconut flakes, fill with crushed ice, and set aside. Pour the whiskey, liqueur, and juice into a cocktail shaker filled with ice. Shake well. Double strain into the prepared glass. Top with the sparkling apple cider. Garnish with an apple wheel.
5. Holland Razor Blade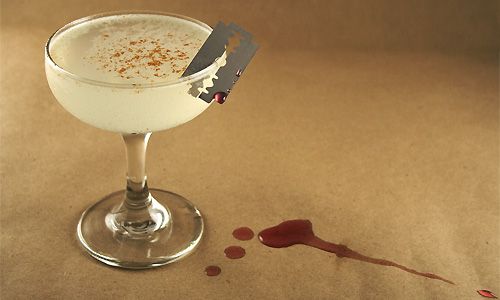 As the most physically threatening cocktail on this list, it should come with a disclaimer. Be careful how you drink it, or you might wind up with a Glasgow smile.
Ingredients:
2 oz Genever
0.75 oz Simple syrup
0.75 oz Lemon Juice
Pinch of Cayenne Pepper
Add all ingredients to a mixing glass
Shake with ice and strain into a coupe
Sprinkle cayenne over the top
Do not garnish like we did
6. Corpse Reviver
This is a mix for the true drinker. The recipe book it's featured in recommends the drink "be taken before 11 a.m., or whenever steam and energy are needed."
Ingredients:
3/4 ounce gin
3/4 ounce Triple Sec
3/4 ounce Lillet Blanc
3/4 ounce Lemon Juice
Rinse of Absinthe
Rinse chilled cocktail glass with absinthe.
Combine ingredients in a shaker.
Shake ingredients sharply with ice.
Strain into cocktail glass.
Garnish with a brandied cherry.
7. Drunken Spider/Black Widow
Even our favorite arachnids aren't immune to the pleasantries of a Halloween cocktail. This poor fellow looks like he needs to lay off the sauce.
Ingredients:
Cream de Cassis
Vodka
triple sec
fresh lemon juice
Pomegranate juice
licorice strings
For two cocktails (or one cocktail shaker): 2 parts cassis, 3 parts vodka, 1 part triple sec, 1 part lemon juice, 1 part pomegranate. Sorry, even though I bought a little measuring glass for shots, I never seem to use it. I make cocktails with ratios. If I were over my skillet, each 'part' would translate to a 'glugg' of olive oil. Just think in fractions: for the Black Widow, your shaker is 8 parts. Go from there. Too much of this, too little of that: trust me, the spider really won't care one way or another.
8. Candy Corn Martini with Pop Rocks rim
Ahh, an alcoholic beverage that harkens back to our childhood. Just make sure the kiddies are asleep before making the Candy Corn Martini.
Ingredients:
Ingredients for Candy Corn Vodka:
2 cups vodka
1 cup candy corn
Ingredients for Vanilla Vodka:
1 vanilla bean, slip open and scraped
1 cup vodka
Ingredients for Candy Corn Martini with Pop Rocks rim:
1 ounce of Candy Corn Vodka
½ ounce of Vanilla Infused Vodka
¾ ounces of Martini & Rossi Rosso Vermouth
A few dashes Angostura Bitters
2-3 packages 'Pumpkin Patch Orange' (green and orange mix) Pop Rocks
Instructions
Instructions for Candy Corn Vodka:
Combine ingredients in a glass container. Seal, store in a cool, dark place. Taste after 4-5 days. If to your liking, strain the vodka through two layers of cheesecloth and enjoy!
Instructions for Vanilla Vodka:
Combine ingredients in a glass container. Seal, store in a cool, dark place. Taste after 3 days and either use or infuse longer.
Instructions for Candy Corn Martini with Pop Rocks rim:
Place pop rocks into a shallow flat bowl or plate. Rim a cocktail glass with a lemon slice and dip glass into the pop rocks, twisting the glass to create full rim.
In a shaker with ice, combine the vodkas, vermouth and bitters. Shake and strain into prepared cocktail glass.
9. Frog in a Blender
Mmm, frog chunks. As delicious of a witch's potion as you're going to get.
Ingredients:
1 cup of ice
2 ounces vodka
4 ounces cranberry juice
2 lime wheels
Place all the ingredients in a blender (including the lime wheels). Blend for 3-5 seconds (ingredients will not be completely blended). Pour into a chilled hurricane or margarita glass.
10. Paranormal Activity
This drink is for all of those amateur ghost hunters amongst us. You can almost see an apparition forming in your glass.
Ingredients:
1 part Lucid Absinthe
1 part white crème de cacao liqueur
1 part coconut milk
Drizzle of black Sambuca
Combine the absinthe, crème de cacao, and coconut milk in a cocktail shaker filled with ice. Shake until frothy. Strain into a rocks glass over fresh ice. Drizzle black sambuca down the side of the glass until it floats on the bottom and diffuses into the cocktail.
 For more creepy cocktails, check out 8 Cocktails That Sound Like They Can Kill