The 15 Oldest Bars in the United States
|
We've often asked where the oldest bar in the US is. Those who have been to Europe know the appeal of the cozy retro bar. Why go to these places when there are new establishments that are pulsating with new and cool beats? That's because longevity says a lot about a bar. People get tired of nightspots too quickly, and if you find one that has survived the test of time, then there must be something special about it. We can only assume that their beers are laced with gold because bars don't generally have a long lifespan. Unless you're the only tavern at the very top of the mountain, give or take 5 years and you're done.
Just like the 7 wonders of the world, these bars should be on your bucket list. Visit any of these and see what makes it so special. Could it be the amazing service? How 'bout that sizzling-hot bartender that serves you your poison? Or, are the prices in the menu much like peanuts compared to the other bars in the area? Whatever the reason may be, it's now your job to find out the winning formula for these longstanding but nonetheless trendy bars:
15. Ye Olde Trail Tavern
Address: 228 Xenia Ave, Yellow Springs, OH 45387, United States
Established: 1848
This place offers a casual dining experience to everyone. It's sure to have something on the menu that will attract you. And while the name sounds a little too historic and ancient, it offers modern amenities with a touch of old-world class to its customers. It's a great venue for parties, especially if you're planning on a themed one. The tavern is definitely as faithful as it sounds.
[tps_title]14. Napoleon House[/tps_title]
Address: 500 Chartres St, New Orleans, LA 70130, United States
Established: 1797
This was originally the house of the Mayor of New Orleans. He then offered it as refuge to Napoleon Bonaparte himself. Because the infamous man never came, the house remained unused. Maybe Napoleon decided to stay by Josephine's side and seek refuge in her ample bosoms. Well, we're glad his ghost doesn't haunt the place. What was once a shelter is now a bar and restaurant. It offers European cuisine, classical music, and the famous Pimm's Cup cocktail to both the regulars and newbies.
[tps_title]13. Bell In Hand[/tps_title]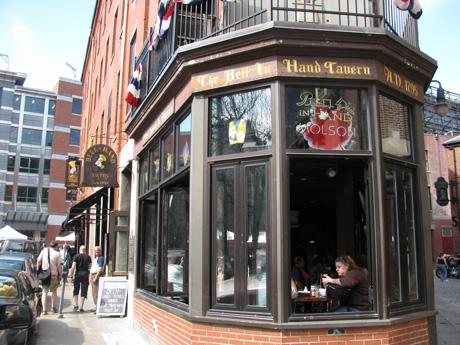 Address: 45 Union Street, Boston, MA 02108, United States
Established: 1795
The Bell in Hand plays a trendy host to the young 'uns of today's generation. The moment you step in, you'll find young professionals gathering for some good food and drinks. Some people assume that this is actually the oldest tavern in America, but that's because it gives the guests the colonial vibe the moment they walk through the doors. Unlike some of the oldest bars, this one only closed once in its entire existence, and this was during the prohibition. But like any good establishment, it jumps back on its feet and becomes stronger than ever. The bar got its name from its owner, a Boston town crier named Jimmy Wilson. But what makes this place even more special is the fact that it has remained true to its nature: it continues to serve quality food and drinks just like it once did to Paul Revere, Daniel Webster, and William McKinley.
[tps_title]12. Warren Tavern[/tps_title]
Address: 2 Pleasant Street, Charlestown, MA 02129, United States
Established: 1780
The bar is located in historic Charleston. It's surrounded by cozy homes and warm locals. And it seems as if George Washington loved his alcohol. This is said to be his favorite watering hole. In fact, his eulogy was done here. The bar doesn't just have historic significance, but it's also known for its good food and strong spirits. And if you stay long enough to drink yourself into oblivion, you might see ghosts of famous historical men enjoying the night with you. The bar also hosts fun events such as Live Acoustic Night and Monday Night Trivia. It's time to put your knowledge to good use the moment you decide to spend a good portion of your night here.
[tps_title]11. The Tavern[/tps_title]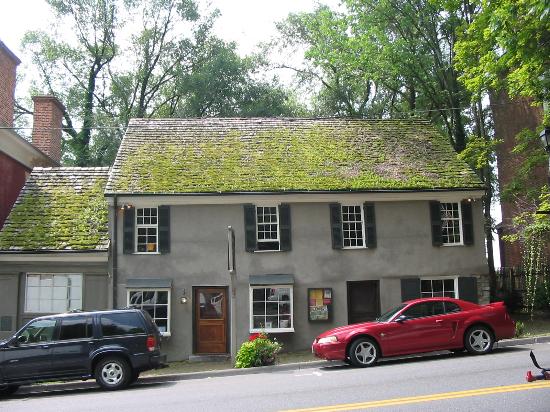 Address: 222 E Main Street, Abingdon, VA 24210, United States
Established: 1779
You'd never think that a bar with such a simple name is actually dotted with a rather colorful history. It was built in 1779 in Abingdon's oldest building. It started as what it is today – a tavern and an inn. History decided to rewrite its role and it became a bank, bakery, general store, barber shop, cabinet shop, private home, post office, antique store, and of course, a restaurant. It's certainly a mouthful for just a tavern. During the civil war, it also served wounded soldiers and became a makeshift hospital. The bar certainly passed the test of time. You'll see bits and pieces of history the moment you walk in, but there's no denying that it now aims to serve quality food and drinks to its loyal patrons and new customers.
[tps_title]10. Griswold Inn Taproom[/tps_title]
Address: 35 Main Street, Essex CT 06426, United States
Established: 1776
This bar thrives to entertain, and as you can see, it's certainly done a good job. On any night of week, you'll hear live music – blues, swing, and all the other genres in between. People just don't come for entertainment. The patrons keep coming back for its commended cocktails and exclusive martinis. The bar also boasts of its wide selection of the world's best beers and wines. If you're an art aficionado, you can get your fix here as well. Every art piece comes with a good story behind it. The bar must have been that good because they remained open even during the Prohibition. It's apparently more powerful than Al Capone himself.
[tps_title]9. The Horse You Came In On Saloon[/tps_title]
Address: 1626 Thames St, Baltimore, MD 21231, United States
Established: 1775
So, did the person who discovered this bar ride on a horse with no name? It's reminiscent of the old US cowboys. Just imagine a gun-toting, horse-riding, cigar-chewing man bursting through the salon doors. Then, a lady in red awaits, ready to provide him with the pleasure he needs. You certainly won't see the scene now, but what awaits you are live music, cold booze, and mouth-watering fares. This was Edgar Allan Poe's bar of choice. There must have been something about the food that inspired this dark poet to write the classics that he's known for today, and that's saying a lot because the man reeks of talent.
[tps_title]8. City Tavern[/tps_title]
Address: 138 S 2nd St, Philadelphia, PA 19106, United States
Established: 1773
Obviously, it isn't possible to time travel. But if you want something that's akin to it, then you can get a taste of the past at City Tavern. They say that Paul Revere stopped here during his midnight ride. Well, we can now say that Paul just made another mark in history – he's now known as the man who knew where the good bars were. The staff waits on you dressed in clothes worn in the era it opened. If you don't know what a time capsule is, then you'll certainly get an idea here.
[tps_title]7. Jean Lafitte's Blacksmith Shop[/tps_title]
Address: 941 Bourbon Street, New Orleans, LA 70116, United States
Established: 1772
Go back in time and head over to New Orleans. Stop by this bar and get a feel of the area's true history. This bar is certainly a true survivor. It was ravaged by a disastrous fire back in 1794, but instead of folding like most of ruins during the French Quarter, it decided to open its doors once more. The tavern remains true to its nature. You can get a glimpse of its old-world charm the moment you walk in. There's an old piano bar set in the corner and most of the areas are still lit by candle. But if you're craving for that modern touch, you can enjoy the Jukebox that was recently added.
[tps_title]6. Fraunces Tavern[/tps_title]
Address: 54 Pearl Street, New York, NY 10004, United States
Established: 1762
Take your pick from 18 kinds of tap beer and get to listen to any music you want. Wow! When can we go? But what makes this tavern such a hit is the fact that it serves the famous pot pie that George Washington loved. This was also the prominent meeting place for the Sons of Liberty. While some people don't like seeing too many tourists visit the place, the sign of a good bar is its popularity – which this one certainly has.
[tps_title]5. The Old '76 House[/tps_title]
Address: 110 Main St, Tappan, NY 10983, United States
Established: 1755
This bar is technically the oldest one in the bunch. It was built by Dutch immigrants in 1668 but officially came to be what it is today in 1755. Can you name a bar that has welcomed George Washington and his guests? The '76 House certainly did. Yes, they're that old. This bar brings trendy yet ancient to a whole new level. This establishment has been a safe haven for those weary travelers. Nowadays, busy yuppies and established men converge at the bar to get some food and libations. Part of its original structure remains intact, but what makes this place attractive is that you can now boast of the fact that you've shared a bar where President Washington tipped a few shot glasses of his own.
[tps_title]4. The Pirate's House[/tps_title]
Address: 20 E Broad Street, Savannah, GA 31401, United States
Established: 1753
If there's one group of men that loved to drink, it's the pirates. They certainly loved their rum. And what better way to commemorate their passion than to create a bar named after this grizzly and notorious band of brothers. Seafarers aren't the only patrons today. In fact, you'll see all sorts of guests here. This bar offers an interesting list of scandalous foods on the menu. These are as delicious as they are shocking. Every item on its list is a precious booty that's unique to the bar.
[tps_title]3. Middleton's Tavern[/tps_title]
Address: 2 Market Space, Annapolis, MD 21401, United States
Established: 1750
Nope, don't expect to find the Duchess of York walking through the doors any time soon. While this bar bears the same name, it's certainly not your formal establishment. You won't find men in tuxes and women in long dresses here, unless the entourage decided to make a quick stop on the way to the wedding. This was where the Free Masons once congregated. Nowadays, you'll find people looking to taste the famous oyster shooters. This bar's got energy, and once you're there, you'll want to bask in the fun hustle and bustle it offers.
[tps_title]2. Jessop's Tavern[/tps_title]
Address: 114 Delaware St, New Castle, DE 19720, United States
Opened: 1724
Customers rave about the fireside dining experience this tavern provides. If you're craving for lobsters, you get the some of the freshest picks here. Beef? The prime ribs are to die for! And the best way to cap off your meal is to have a good bottle of beer. You'll certainly have your pick of the litter here because Jessop's Tavern has the largest selection of Belgian beers in Delaware. So, see you there for next week's football night?
[tps_title]1. White Horse Tavern[/tps_title]
Address: 26 Marlborough St, Newport, RI 02840, United States
Established: 1673
What makes this bar click? Better ready yourself for a gastronomic feast because the White Horse Tavern is most known to serve the freshest fish, clams, and lobsters. The veggies are just as fresh. The greens have been harvested in the farms within the area and give you that just-picked taste. If you're a proud carnivore, the cheeses and prime cuts aren't bad either. They say that the best way to a man's heart is through his stomach. Seems like this holds true for women patrons as well!