19 Drinks and Cocktails Named After Movies
|
There are a few things that are considered classics in this day and age. Cocktails and movies are definitely part of that category. The art of mixology has become a popular craze these days, and bars like Apotheke in Manhattan or Milk & Honey in London employ bartenders that make specialty drinks exactly to the taste of each and every customer's liking. So what's hotter than a liqueur connoisseur with a flare for theatrics? How about knowing the drinks and cocktails that are actually named after such well-loved movies? Below are 19 such beverages.
1. Tequila Sunrise
Ingredients:
1.5 oz jigger tequila
¾ cup freshly squeezed orange juice
½ oz jigger grenadine syrup
1 slice orange, for garnish
1 maraschino cherry, for garnish
Mixing Instructions:
In a shaker, pour tequila and orange juice and mix together. In a tall glass, fill with ice cubes and pour in mixture. Take grenadine and slowly add it in to allow it to fall to the bottom. Take orange slice and maraschino cherry and garnish.
Remember the days when Mel Gibson was actually well respected and not the raving lunatic that he is today? When he starred in the movie Tequila Sunrise, the movie garnered Oscar nominations and had top billboard songs from the sound track. And a very sleek cocktail was created from the title. Even if Mel can no longer keep his cool these days, this cocktail sure can. Why not try one out on a sultry, summer evening and decide for yourself?
2. Blue Lagoon
Ingredients:
1 oz vodka
1 oz Blue Curacao liqueur
Lemonade to taste
1 Cherry garnish
Mixing Instructions:
Mix vodka and curacao in a highball glass over ice. Add lemonade to the top and garnish with the cherry.
If there was one movie that made young, horny teenagers even more randy, this was definitely it. Watching a young Brooke Shields and some guy nobody remembers swim through crystal clear blue water and experience first love would get anybody's heart racing and in need of something refreshing to drink. Even if you're nowhere near the ocean, having a Blue Lagoon will at least make you feel a little closer to nature. You can also just rent the movie and attempt to get as close to your natural self as possible too, if you catch my drift.
3. Chuck Norris
Ingredients:
1 shot vodka, cherry (Phillips UV)
2 shots Energy drink (liquid ice)
Mixing Instructions:
Fill a shot glass with cherry vodka and put inside a larger glass. Take the energy drink and pour into the glass until it reaches the top of the shot glass.
I'm sure you've heard this one before: Chuck Norris decided to sell his urine as a canned beverage. We now know this as Red Bull. I guess we now know what his piss tastes like, huh?
4. Jedi Mind Trip
Ingredients:
0.5 lemon lime
0.75 Midori
1 oz. pineapple juice
0.75 oz Parot Bay Rum
Mixing Instructions:
Pour all the ingredients into a shaker over ice. Vigorously shake. Fill up a martini glass and garnish with a cherry.
If only the cocktail would work on women as well as the Jedi Mind Trick works in the Star Wars movies. Maybe you'd finally get the hot girl to agree to go to bed with you, or at least let you get to second base.
5. Godfather
Ingredients:
1 ½ oz Scotch Whiskey
¾ oz amaretto almond liqueur
Mixing Instructions:
Place ice in an old-fashioned glass and pour ingredients in. Bourbon can be used instead of whiskey if preferred.
Regardless of whether you even enjoy whisky, amaretto almond liqueur, or even bourbon for that matter, just ordering a Godfather sounds pretty smooth. Just as long as you don't do it with a "joisey" accent because, Lord knows, nothing sounds good when you talk like anyone who was on the Jersey Shores.
6. The Hermione Granger
Ingredients:
Pomegranate liqueur
Champagne
Grape Fruit Juice
Mixing Instructions:
Combine all ingredients in a glass filled with ice and stir for approximately 30 seconds. Strain into a cocktail glass.
Why a cocktail would be created for a character that isn't old enough to drink is somewhat perplexing. But the fact that it was named after one that was such a goody-two-shoes is an even bigger mystery. Good thing the damn drink is so good or else you wouldn't ever hear anyone actually requesting for one. Unless of course you were in some strange Harry Potter-like strip club and you were asking for your next lap dancer.
7. Twilight Cocktail
Ingredients:
1 part tequila
2 parts cranberry juice
1 shot grape juice
Mixing Instructions:
Take a glass and fill 1/3 with tequila. Pour in cranberry juice, leaving enough space for the shot of grape juice.
Without a doubt, this cocktail was definitely created by the twi-moms out there that have nothing better to do than to read crappy young adult novels and get plastered to their hearts content. Hopefully they aren't enjoying this blood-colored mixed beverage with their actual tween, unless they want to get a knock on the door from child protective services. Dumb movie, even dumber drink.
8. Wayne's World
Ingredients:
1 oz Jagermeister herbal liqueur
½ oz Sambuca
Mixing Instructions:
Fill a shot glass with 2/3 Jagermeister and top with Sambuca.
Mike Meyers definitely knows how to throw a party, and so will you if you decide to serve Wayne's World shooters. One thing's for sure, the more of these you throw back, the more throw up you'll have to clean.
9. Breakfast At Tiffany's
Ingredients:
1 teaspoon orange marmalade
1 teaspoon orange bitters
2 shots Ciroc vodka
Mixing Instructions:
In a cocktail shaker, mix all ingredients in a shaker and double strain into a martini glass. Add a twist of orange for garnish.
This movie is definitely a must-see. Not just because of how beautiful Audrey Hepburn plays the part of Holly Golightly, but also because of the very comical way they portray her supposed Chinese neighbor. And why not name a cocktail after this movie? What a perfect excuse to have a drink that early in the morning.
10. Miami Vice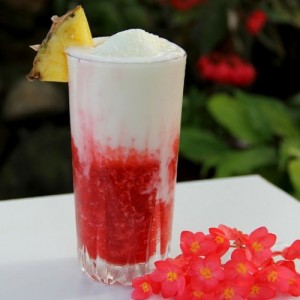 Ingredients:
5 oz Bacardi 151 rum
1 package frozen pina colada mix
1 package frozen daiquiri mix
Mixing Instructions:
Take pina colada mix and combine with 2.5 oz rum and ice and set aside. Take the daiquiri mix and also combine with 2.5 oz rum and ice. Making sure both mixtures are frozen, pour pina colada mix into a cocktail glass and add daiquiri mix on top, making sure they stay separated.
From white tuxedo jackets to 70's porn mustaches, Miami Vice was the epitome of laughable when you look back at it now. I guess this cocktail was meant to look like the semblance of their funky outfits with the juxtaposition of light to bright, and as tropical as the city it was named after.
11. The Incredible Hulk

Ingredients:
½ oz Hennessy cognac
½ oz Hpnotiq liqueur
Mixing Instructions:
Mix together Hennessy cognac and Hpnotiq liqueur.
Considering the ingredients that go into this thing, I'd probably turn a shade of green too and get a little hot headed myself. I guess the green-eyed monster isn't supposed to be tamed with this one.
12. Captain Ron
Ingredients:
2 – 3 oz Captain Morgan Original Spiced rum
4 oz Juicy Juice orange tangerine juice
Mixing Instructions:
In a hurricane glass filled with crushed ice, combine Captain Morgan rum and the Juicy Juice orange tangerine juice. Stir and enjoy.
Get ready to set sail and with this fruity and tropical cocktail. If there was ever a time to feel like a pirate then it's with this drink in hand and the actual movie in your DVD player. Sit back, take a sip and enjoy the show.
13. Great Balls of Fire
Ingredients:
1 oz Goldschlager
½ oz Hot Damn! 100 Proof Cinnamon Shcnapps
½ oz After Shock, Red
Mixing Istructions:
Combine all the ingredients in a shot glass.
This drink should come with a warning label with all the cinnamon and spice flavored liquids. The more shooters you take, the angrier your bottom will be the next day. It should be called The Great Ring of Fire instead. Ouch!
14. The James Bond Martini
Ingredients:
3 oz gin
1 oz vodka
½ oz Lillet Blanc wine
Mixing Instructions:
In a cocktail shaker half-filled with cracked ice, pour the gin, vodka and Lillet blanc and shake well. Pour into a chilled cocktail glass and top with a twist of lemon.
We're all quite familiar with the saying "Shaken, not stirred" from all the James Bond movies. And although most men are not as urbane as 007, ordering the drink can make you feel a little sophisticated, and lot more adventurous when it comes to chatting up the ladies. Just make sure that you can handle your alcohol as well, unless you want to be seen as an octo-pussy.
15. Casablanca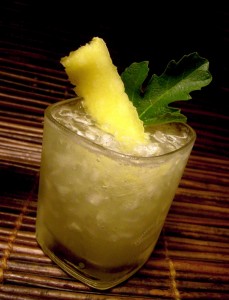 Ingredients:
2 oz white rum
½ oz coconut rum
4 oz pineapple juice
1 oz coconut cream
½ oz grenadine syrup
Mixing Instructions:
Mix all ingredients except for the grenadine. Blend with a glassful of crushed ice and pour into a Collins glass. Add grenadine and serve with a slice of pineapple.
Casablanca was as iconic a film as they come. With such A-list stars as Humphrey Bogart and Ingrid Bergman, this became one of the greatest films of all time. So of course there had to be a cocktail named after it, right? Once you've had the pleasure of trying it, you may find yourself saying one of the most recognizable lines in movie history: "I think this is the beginning of a beautiful friendship".
16. Captain America
Ingredients:
1 part blue curacao
1 part crème de cacao
1 part grenadine
Mixing Instructions:
In a shot glass, fill with 1/3 grenadine, 1/3 crème de cacao and 1/3 blue curacao. Add a tiny American flag and a sparkler for flare.
Talk about feeling patriotic! If this drink doesn't make you feel the love for your country, then maybe waving the tiny little American flag will.
17. Red Eye
Ingredients:
12 oz lager
6 oz tomato juice
1 egg
Mixing Instructions:
In a large frosted mug, pour cold tomato juice. Take the 12 oz lager, refrigerated and pour on top of the tomato juice. Crack an egg on top of the mixture and make sure not to stir. Serve.
Although this drink is supposed to be more of a hangover cure than a cocktail, it's still worth adding to this list. Anything that uses tomato juice, beer and a raw egg all together is something to try, especially if you're not the sucker that's actually going to down it. I think I'll just stick to the tried and tested Bloody Mary goodness for my next hair of the dog concoction.
18. Psycho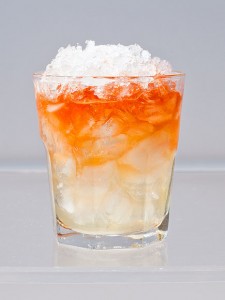 Ingredients:
8 cl pineapple juice
8 cl orange juice
4 cl Bacardi white rum
2 cl Grenadine syrup
2 cl Galliano Herbal Liqueur
Mixing Instructions:
Combine all ingredients into a shaker and mix well. Strain into a cocktail glass and garnish with a pineapple chunk, orange slice and maraschino cherry.
Whether this cocktail was actually named after the movie or your ex-girlfriend, one thing is certain – the more you drink, the crazier you'll become. But whatever the case may be, it's definitely better to drink a psycho than to live with one.
19. Blow Job

Ingredients:
¼ oz Bailey's Irish Cream
½ oz Amaretto Almond liqueur
Mixing Instructions:
Combine Bailey's and almond liqueur into a shot glass and top with whipped cream.
I know what you're thinking, and you're only partially wrong. Yes, the title of the movie is precisely what it's all about, blowjobs, but it wasn't actually considered a pornographic film. At least not for Andy Warhol who directed it in 1964. Although the movie is about fellatio, the actual act is not shown. It's a silent film showing the facial expressions of a young man on the supposed receiving end. Just like in the movie, in order to enjoy the cocktail, only one thing is required, a mouth. So the next time you find yourself at a bar and feeling a little uninhibited, why not order a Blow Job and do as the Romans do. Put your hands behind your back and your mouth over the shot, tip back and gulp down. And if you're a dude, make sure no chick is watching you because it will be really hard to convince her that you're really into girls after seeing that.
So the next time you feel like hosting an "Oscar" night in your home, look to this list for the perfect cocktail to serve to your guests. Even if no actual Hollywood actors come to your party, with an excess amount of alcohol, there may still be some star sightings, even if it is at the bottom of the toilet.