Pairing your Favourite Food with your Favourite Drink
|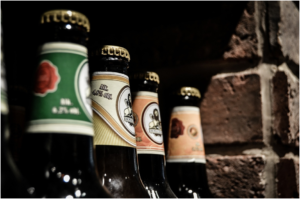 Choosing the right dish to go with your favourite drink can often be tricky business, but with this quick guide, it doesn't have to be. Once you've chosen your favourite drink, you can browse restaurant menus here, or find recipes online, where you can make yourself, or order in, the perfect dish to compliment your preferred tipple.
Italian & Wine
Italian cuisine is as vast in variety as wine, so putting these two culinary powerhouses together makes perfect sense. The Italian classic beef braciole marries beautifully with a deep, dark bottle of red. Italian fish dishes, like spaghetti alle vongole match wonderfully with a light, fruity white. Rosé can be hard to match with food, but it makes the perfect pizza partner, cutting through the density of the dough brilliantly.
Chinese & Lager
Chinese cuisine can often be quite oily. Especially in this country, we have a great appetite for deep fried Chinese delicacies like spring rolls and prawn toast. Sweet and sour sauces and chow meins are delicious, but are also quite heavy with oil and sugar.
A bottle of quality lager is the perfect palate cleanser to pair with your favourite Chinese meals. The clean, light, bubbly flavour of lagers like Singha or the classic Budweiser would go nicely with your favourite Chinese dish. If you can get your hands on Chinese lagers like Tsingtao or Yanjing, that would be even better.
Beef & Beer
The combination of beef and proper ale makes a very palate pleasing partnership, with the steak and ale pie remaining a British pub classic for decades. Dark ales, like stout go perfectly with braising steak stew or beef bourguignon, but if you've got steak and chips on your mind, then a pale ale like a traditional IPA, would be the best accompaniment.

Pork & Cider
Pork and apples are a tried and tested historical partnership, but the apple side of the combination doesn't have to be a dollop of apple sauce. Next time you have some pan-fried pork chops, or a roasted shoulder of pork with all the trimmings – try serving it with a chilled bottle of Thatcher's Gold or a lesser known, but equally as tasty brand that might be on offer at your local farmers/super market. Don't be scared to throw a dash of cider in your porky gravy for good measure.
French & Champagne
As Champagne is made exclusively in France, it's only right French cuisine should be served alongside the world's most famous sparkling wine – and luckily, the two go hand in hand. The fresh, creamy, richness of a classic moules marinière marries perfectly with the bubbly, fruity flavours of champagne.

Indian & Lassi
You could choose an authentic Indian beer, like Cobra or Kingfisher to go with your curry. However, if you struggle with spice, then beer is only going to accentuate the burn. Dairy products are a known chilli extinguisher and the Indian favourite Lassi is a yoghurt based drink, which would be the perfect accompaniment to any spicy Indian offering.