How to Plan the Ultimate Casino-Themed Party
|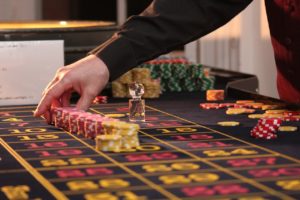 Casinos can be great fun. Unfortunately, not everyone has access to a casino and often for many people the idea of betting real money isn't appealing. If you're looking for a cool theme for your next party, why not try bringing the casino to you? A casino-themed event is loads of fun and you can include people of all ages (as long as you're not actually gambling with real money).
You want to make this party memorable, so you should probably put in that extra effort to make sure your guests have a fabulous time. Here are a few tips for planning the ultimate casino-themed party:
Use Fake Money
For those who really love gambling and are willing to risk losing real money, they can easily head over to a brick and mortar casino or log onto their favorite online casino to get their fix. But for the rest of your guests, your safest bet is to play using fake money so that no one feels uncomfortable or like they can't participate. You can offer up prizes for winners such as gift cards, bottles of wine, etc.
Buy Casino-Themed Party Supplies
Check online or head over to your local party store to pick up your casino party supplies. You're going to need things like decorations, napkins, plastic cups and, most importantly, decks of cards, dice, poker chips, etc. The more you decorate, the more authentic the experience is going to feel for your guests.
Determine Your Budget
Knowing how much you can afford or want to spend before planning the party is extremely important. You don't want to end up throwing a fantastic party but regretting it because of how much money you spent on it. It often doesn't take much to spice up a room and the most important part is really getting your group of friends or family all together in the same place.
Hire the Dealers
If you have decided that your budget can allow it, "renting" or hiring a professional dealer for the occasion is a great idea that will really make your party feel like the real thing. Look up local casinos and party rental places to see if they have any dealers you can hire for a few hours.
Pick the Games
Pick just a few games you think your guests will enjoy the most. Remember to keep it simple. People come to a party to have fun, not to have to learn a bunch of complicated instructions for a game they have never played before. You can set up a few games of varying complexity so people can get to choose which they are best suited for.
With these several tips you should be more than ready to start planning your epic casino-themed party.