Power Tools Every Man Should Own
|
A rite of passage for many men is owning their first power tool. Since the invention of the first electrically operated power drill and the gasoline powered chainsaw, men everywhere has lusted for power tools of all kinds. From drills, table saws and nailers, to chainsaws, sanders and pneumatic grease guns, power tools are a staple in any man's shop and there are certain power tools that every man should own regardless of his hobbies, his career or his abilities to create something with them.
Now, this isn't to say that men shouldn't own a wide range of power tools, even purchasing every power tool available at their local hardware store whether they need them or not. It's just that there are power tools that care a necessity and these are the ones that should be purchased first.
Let's take a look at some of the best power tools available and the ones that are most often borrowed by your neighbors.
1.Drill. This power tool is essential for any home or professional shop as it can be used for a wide range of purposes and can make screwing, drilling holes or removing fasteners fast and easy. Power drills come in either corded or cordless rechargeable with both types offering their own specific benefits.
2. Circular saw. Circular saws make quick work of cutting wood to size for your home improvement or hobby project. Without a power circular saw, you could be using a handsaw and taking weeks to get your next project completed. Like power drills, circular saws come in both corded and cordless models.
3. Reciprocating saw. A reciprocating saw can cut things that your circular saw cannot. You can use a reciprocating saw to cut a hole in drywall, cut tree branches, even cut a piece of lumber down to size just before installation.
4. Chainsaw. While on the topic of saws, we couldn't forget the chainsaw. This gas powered, tree cutting machine can cut everything from thick branches, to entire trees and do it with ease. When purchasing a chainsaw, you want to find one that has all of the safety features you want and that offers quality construction and dependable use.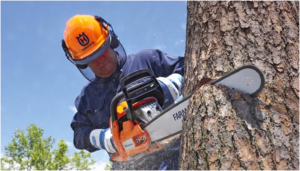 5. Sander. A high-quality power sander will save you time when trying to create a smooth finish on your woodworking projects. Cordless or corded, orbital or belt, palm or sheet, there are many power sanders to choose from.
6. Air compressor. I know, this isn't really a tool, but it does lead to the purchase of many more power tools and an air compressor can be used as a standalone in your garage to inflate your car's or lawnmower's tires or even to blow away dust and debris from your work station.
7. Nailer. Whether you choose an air operated nailer, electric nailer or a powder cartridge style, a nailer will help you attach trim, build furniture or install hardwood flooring quickly and efficiently. After all, the purpose of power tools is to save you time, isn't it?
8. Buffer. An electric buffer will make waxing your car hassle free and leave the finish smooth, shiny and protected.
9. Weed trimmer. A gas or electric powered weed trimmer is essential for anyone who wants their lawn and garden to look neatly trimmed and healthy. Some weed trimmers are offered with an edger attachment making them useful as well as practical.
10. Rotary tool. Think of the rotary tool as the Swiss Army knife of the power tool world. A rotary tool can drill small holes, be used to cut plastics or wood into shape, buff or polish small items and anything else you can think of. Many rotary tool kits come with a wide range of attachments that are easily installed and can help you build those projects that require more detail than other power tools can supply.