Family Guy's Peter Griffin Motivational Posters and Awesome Quotes
|
Homer Simpson once ruled men's lives. After all, who doesn't love this beer-toting, politically incorrect, follicle-challenged dude who just wants to sit in front of his TV all day long? But obviously, times have changed. There's a new king on the block right now and he goes by the name of Peter Griffin.
He has a hot redhead for a wife and Mila Kunis for a daughter. It's every young boy's fantasy to be a part of his family. And, he has a genius for his youngest child and a British dog for a pet. Yes, this man certainly has it all. Just goes to show you that even if you're an overweight half-wit with no talent to speak of, you can still have everything you want as long as you have Peter Griffin's simplistic mind.
So, buckle your seatbelt and get ready to get some of Peter's memorable nuggets of…well, for lack of a better word – uhmm…wisdom. Call him a genius if you must because he's the epitome of all of us at our worst, but somehow, he manages to pull it off perfectly.
If Bill Gates is a genius, this man definitely belongs on the other end of the spectrum. Nonetheless, who's laughing on his way to the bank? It's Peter Griffin, of course.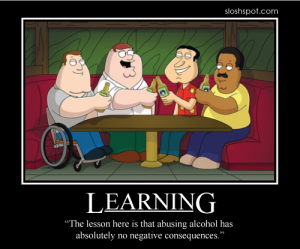 This man obviously loves his alcohol more than his own life, but then again, it's also the very thing that's kept him alive. His alcohol system can't function with too much blood in it.
Nope, he's not an idiot! He's a daft genius who sees life the way it's meant to be seen – in beer goggles! And hey, you gotta give him props for thinking highly of himself.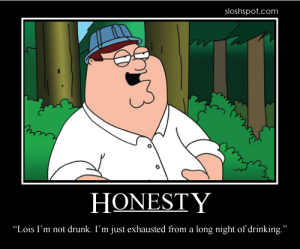 This belongs to the top ten lines men say when they get home too late. He may be reeking of alcohol, but he's never going to admit that he's drunk. Alcohol's got nothing on his testosterone!
Like it or not, many of us do look up to this retard! So what if he's no Einstein? He's the Gandhi of alcoholics known to spew out words of wisdom under the influence.
Tell this to the man or the woman nursing a broken heart. Alcohol doesn't just numb your senses, it also makes you happy. This may even be better than Prozac. It's cheaper and you definitely don't need a prescription. Plus, you can get it in Vegas!
Feminists beware! Here's the ultimate chauvinist who, like it or not, speaks the truth!
This is absurd but true. To an average American, a refined Frenchman is one sandwich short of a gay picnic.
Men, learn this line by heart and say it to your wife the next time she tells you to grow up. You might get slapped, but if there's one thing you can be sure of, it's that she'll never call you a child ever again.
Do you think Mr. Liddy paid for the drinks that provided him with liquid courage during the Watergate incident? Don't think so! So, why should you?
So, don't even think about understanding Lesbians…or Math…or anything for that matter. Just learn about beer. This isn't anybody's lesbian sister!
Titillate her with your thoughts instead! She's bound to cave eventually!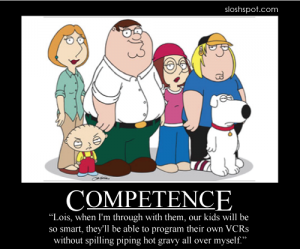 Talk about low expectations! Hey, don't we all just wish our parents thought this way so that they'll never get disappointed. Worked for Peter Griffin!
This may be elitist, but think about it: If everyone believed in the same thing, wouldn't the world be one big party with everyone perpetually happy?
Don't waste your day by wasting a drop of alcohol! Drink when you can, party when you can, and dis people as often as you can! You may end up with enemies, but so what? Alcohol will be there to numb your senses and keep you ignorant about what's happening around you. And as they say, ignorance is bliss.
There you go, funny little tidbits from the world's biggest drunk who also happens to be a man of twisted wisdom. But hey, you gotta admit that there's a sliver of truth to everything he says!