Family Guy's Peter Griffin Motivational Posters and Awesome Quotes
|
Homer Simpson once ruled men's lives. After all, who doesn't love this beer-toting, politically incorrect, follicle-challenged dude who just wants to sit in front of his TV all day long? But obviously, times have changed. There's a new king on the block right now and he goes by the name of Peter Griffin.
He has a hot redhead for a wife and Mila Kunis for a daughter. It's every young boy's fantasy to be a part of his family. And, he has a genius for his youngest child and a British dog for a pet. Yes, this man certainly has it all. Just goes to show you that even if you're an overweight half-wit with no talent to speak of, you can still have everything you want as long as you have Peter Griffin's simplistic mind.
So, buckle your seatbelt and get ready to get some of Peter's memorable nuggets of…well, for lack of a better word – uhmm…wisdom. Call him a genius if you must because he's the epitome of all of us at our worst, but somehow, he manages to pull it off perfectly.
If Bill Gates is a genius, this man definitely belongs on the other end of the spectrum. Nonetheless, who's laughing on his way to the bank? It's Peter Griffin, of course.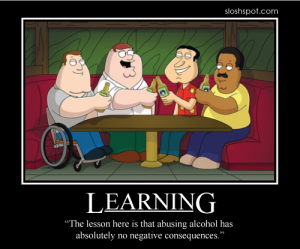 This man obviously loves his alcohol more than his own life, but then again, it's also the very thing that's kept him alive. His alcohol system can't function with too much blood in it.
Nope, he's not an idiot! He's a daft genius who sees life the way it's meant to be seen – in beer goggles! And hey, you gotta give him props for thinking highly of himself.