Pinot Noir Vs Merlot: The Ultimate Taste Test
|
These are two of the world's most popular red wine grapes, albeit for opposite reasons. Merlot produces easy-drinking wines, whilst Pinot Noir produces elegance.
Whereas winemakers like Pinot Noir, despite its difficult cultivation, adore Merlot for its adaptability to varying growing circumstances.
Let's dive deep and learn more about Pinot Noir Vs Merlot. 
Pinot Noir
Pinot Noir is a wine created from the same grape varietal. Most Pinot Noir wines are red, but they may also be used to make superb rosé (for a happy and complex example, search for the Inman Family "Endless Crush" OGV Estate Rosé).
Along with Pinot Meunier and Chardonnay, Pinot Noir is one of the three primary grape varieties in Champagne.
But it's red Pinot Noir that gets the most attention, and it ranges from less costly and more fruit-driven specimens to the type of bottles that make collectors and their accountants break out in cold sweats.
Merlot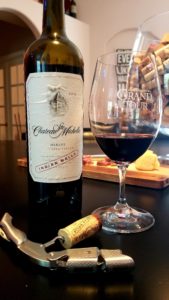 Merlot is a rich, elegant, and adaptable red grape type found worldwide, but it's best known for its part in the exquisite Bordeaux blends.
While the qualities of Merlot vary depending on location, soil, and winemaking procedures, wines created from the grape are often dry with flavors of red and black fruits, softer tannins, and medium to medium-high body and acidity.
Merlot's diversity makes it difficult to categorize into a single style, earning it a chameleon-like reputation that varies depending on where it is cultivated.
Merlot is America's second most famous red wine, behind Cabernet Sauvignon.
Merlot is aged for several years.
Merlot's mild tannins and silky texture make it an excellent complement to a wide range of dishes and cuisines.
Also Read – MERLOT VS CABERNET: WHICH ONE TAKES THE CROWN?
Pinot Noir Vs Merlot: Factors to Compare
Flavor
While the flavor profiles of these red wines differ based on region and winemaker preferences, we can draw a few broad observations.
Pinot Noir
Remember these principles while looking for a bottle of wine at a wine shop or on a restaurant wine list. If you are passionate about wine, you can easily locate a bottle that costs more than $1000.
Flavors of fruit– Pinot Noir is often flavored with cherry and raspberry.
Flavors that come in second In certain situations, this adaptable wine contains additional flavors such as mushroom and forest floor.
Merlot Wine
In truth, the Merlot flavor profile is fantastic! Some wine drinkers dislike the fact that Merlot is a crowd-pleaser. Whether you buy an expensive bottle or not, the Merlot flavor has the same characteristics.
If you like Sideways and want to see more wine movies, go to Best Wine Movies On Netflix.
Flavors of fruit– Merlot flavors include dark plums, blackberry, black cherry (i.e., dark cherry), and raspberry.
Flavors that come in second– Merlot's flavor profile also contain vanilla and mocha.
Alcohol Content
White wine consumers avoid red wines because white wines generally have lower alcohol levels than red wines. However, there are exceptions.
Comprehending the variations in alcohol concentration is essential to comprehend the distinctions between Merlot and Pinot noir.
Pinot Noir Alcohol Content– Pinot Noir typically contains 12-15% alcohol by volume.
Merlot alcohol tent– Merltos typically contain 13-14% alcohol by volume.
Pinot Noir has a lower alcohol-by-volume quality if you want low-alcohol wines. Furthermore, you can also evaluate if the wine was made in a chilly environment, such as the Pacific Northwest or Canada.
Also Read – IS ROSÉ WINE SWEET?
Cultivation
Wine lovers might get obsessed with their Cultivation. However, cultivation alone does not make a good wine. Spending a few minutes at the wine shop asking for recommendations is worth the effort.
Pinot Noir
Pinot Noir is cultivated in numerous regions of France other than Burgundy. It is one of the three most often produced grapes in Champagne out of the region's seven allowed types.
Pinot Noir adds structure and character to brut blends and is also the primary variety in Blancs de Noir wines (white sparkling wine produced entirely of red grapes).
Pinot Noir is also planted in the Loire Valley, where it is used to make red or rosé Sancerre, and it is the only red grape allowed in Alsace.
Merlot
Merlot shines in France, particularly in the southwest of Bordeaux, where its wines are in high demand.
It is the dominating grape in Right Bank blends, notably in the appellations of Saint-Emilion and Pomerol.
The grape grows well on clay and limestone soils and is mixed with Cabernet Franc, Cabernet Sauvignon, Malbec, and Petit Verdot.
Merlot is also used in Left Bank wines, combined with Cabernet Sauvignon in minor percentages.
Food Pairings
An exciting wine combination can transform ordinary wines into an unforgettable experience. As a starting point, consider the following suggestions.
Food Pairings with Pinot Noir Wine
Pinot Noir pairs well with various foods because of its light body, sophisticated structure, and subtle tannins. Choose fatty fish or seafood like scallops, lobster, or prawns for fruitier variations, often found in warmer areas.
Pinot Noir also pairs well with veggie-inspired meals, such as roasted heirloom carrots or caramelized cauliflower steak, which can stand up to the wine's refinement.
Beef bourguignon and coq au vin are the most classic meat pairings, although gamey flavors like duck, rabbit, or quail all match nicely with Pinot Noir's earthy character.
Food Pairings with Merlot Wine
Merlot is frequently seen as an approachable wine due to its versatility. Enjoy the Merlot flavor even more with your next drink.
Pairings for vegetarians– Bean dishes can be used. Merlot isn't the most extraordinary wine to combine with vegetarian dishes.
Meats– Merlot pairs beautifully with every meat meal. One option is grilled chicken. Beef foods such as burgers and pasta with meatballs are also suitable. Blended Merlots go well with roast beef, grilled chops, and roast duck.
Fish– Blackened fish can be effective. Also, pair your Merlot with a seafood stew.
Cheese– Cheese enthusiasts, rejoice! There are various friendly alternatives, such as macaroni and cheese and medium-hard cheeses. Avoid strong-flavoured cheeses.
Average Price
The average price for Merlot wine varietal and Pinot Noir varies by area. For example, if you reside in a wine area such as Oregon or Ontario, you can get plenty of Pinot Noir for a low average price.
Merlot prices, on the other hand, will rise if such grape varieties are not farmed locally.
Let's look at Merlot's costs at the wine shop so you know what to expect.
A bottle of American Pinot Noir starts at about $10. Several Pinot Noirs retail for more than $1000 for wine enthusiasts looking to impress at a formal meal. Wine.com currently has 2504 bottles of Pinot Noir in stock as of this writing.
Wine Library features a collection of Merlot under $30 with over 100 bottles. Several wines at the wine shop cost more than $100. The 2018 Chateau Pavie from France, for example, costs $358.
To round off the comparison, consider the average price of Pinot Noir wine at two online wine stores.
Merlot prices range from $10 to more than $1000. Fortunately, many decent selections, including high-scoring wines, are available for around $50.
140 bottles of Pinot Noir are available at the online wine shop. Entry-level wines can be found for less than $20. Furthermore, well-rated wines can be found for less than $150. 
Taste:
Pinot Noir: Pinot Noir wines are known for their delicate and nuanced flavors. They often have a combination of red fruit notes such as cherry, strawberry, and raspberry, with hints of earthiness, floral undertones, and subtle spiciness. The taste profile is generally lighter, more elegant, and less robust compared to Merlot.
Merlot: Merlot wines tend to have a fruit-forward flavor profile, featuring flavors of plum, black cherry, and sometimes blueberry. They can also exhibit notes of chocolate, vanilla, and herbs. The taste is often perceived as more approachable and has a medium-bodied character.
Sweetness:
Pinot Noir: Pinot Noir wines are typically dry, meaning they have minimal residual sugar. They are not sweet in the traditional sense and are appreciated for their balance of fruitiness and acidity.
Merlot: Merlot wines can vary in sweetness depending on the winemaking style and the region. They are generally considered dry or off-dry, but some Merlot wines may have a slightly sweeter impression due to the ripe fruit flavors.
Healthiness:
Both Pinot Noir and Merlot can be part of a healthy lifestyle when consumed in moderation. Here are some health-related aspects to consider:
Resveratrol: Both Pinot Noir and Merlot grapes contain resveratrol, a natural compound found in grape skins, which has been associated with potential health benefits, including cardiovascular health and antioxidant properties. Red wine, in general, is a source of resveratrol.
Calories: Both wines have a similar calorie content, typically ranging from 120 to 130 calories per 5-ounce (147 ml) serving. However, the actual calorie content can vary depending on the specific wine and its alcohol content.
Moderation: Drinking wine in moderation is key to its potential health benefits. Consuming wine in excess can have adverse health effects, including an increased risk of alcohol-related health issues.
Sulfites: Some individuals may be sensitive or allergic to sulfites, which are naturally occurring compounds used in winemaking as preservatives. Both Pinot Noir and Merlot wines may contain sulfites, so those with sulfite allergies or sensitivities should be cautious.
Also Read – 10 ALTERNATIVE WINES LIKE STELLA ROSA THAT YOU CAN GIVE THE SAME TASTE
Conclusion
While Merlot, France's most planted grape type, yields elegant red wines, Pinot Noir yields extraordinarily smooth red wines, earning it the moniker "Seductress of All Wines."