24 Fun Things To Do When You're Drunk
|
Before time immemorial, human beings have been finding ways to get inebriated, and even stay that way. From wine to moonshine to absinthe to the more commonly consumed drinks of the modern world, alcohol has been one of the best methods man has partaken of to basically have a good time. What better excuse to do extremely fun and dumb things than when you're notoriously wasted off your ass? Even if you haven't done these things while sober, here are 16 fun things to do when you're drunk.
Drunk Texting
Remember the days after a bad break up when all you wanted to do was call your ex? Being drunk is the perfect excuse to do just that! At least when you wake up in the morning with zero recollection of what – or even possibly who – you did, you'll have your trusty iPhone to remind you of your complete and utter stupidity. You may just find out that you are no longer single but back in your disastrously sad and pathetic relationship with your old flame from high school. At least breaking up again won't be a first in this case.
Party Like it's 1999
The year 1999 was one to remember. The New York Yankees became Major League Baseball's World Series Champions. The Sixth Sense broke movie records with its tagline "I see dead people" thus becoming a worldwide phenomenon. Y2K scared the living daylights out of an entire universe and managed to convince the entire population that the world as they know it would collapse overnight. Even the artist formerly known as Prince wrote a song way back in the year 1982 talking about partying like it's 1999, probably due to the idea that the world was somehow going to end then. We're pretty sure that people were getting just as sloshed then as they are now, so why not take his sage advice and party hard like it too?
Sing Karaoke
If there were ever a time to belt out Ice, Ice Baby and not care who is listening to you, being drunk is the time to do it. As much as you don't want to admit it sober, being plastered is the perfect excuse to confess that you not only know that song by heart, but that you actually dressed up like Vanilla Ice – and not because it was Halloween. Most of the karaoke dives you go to are already filled with other wasted patrons, so why not join in and perform like the frustrated nightingale you are? Just remember, there's no water running in the background to mask just how awful you truly sound. Good thing everyone else sucks just as much as you do.
Shop Online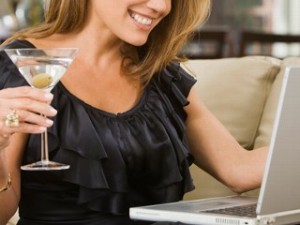 Online shopping is probably one convenience that almost everyone can benefit from, no matter where you are. The fact that you can have anything and everything delivered directly to your doorstep is a huge treat in itself. So the next time you find yourself too drunk to drive but in major need of your next bottle of vodka, check out 1-800-PINK-DOT. And if you're a sad loser drinking all by your lonesome, you may want to check out www.goodwife.com to purchase your mail-order bride at the same time too.
Dance Like a Stripper
Regardless of how trashed you are, if you dress up like a Playboy bunny, you're bound to get a few tips. Whether the tips you get are actually monetary, or they are actually people telling you to put on some clothes will probably depend on how good you look dressed as one of Hef's girls. Whatever the case may be, you can blame the Jaggerbombs on the highly inappropriate pole dancing you're doing. Especially if you're performing in the middle of your company's masquerade party, and were supposed to dressed much more appropriately than a call girl.
Go to an Amusement Park
A lot of people have an understandable fear of roller coasters. So being massively drunk when choosing to finally try one out for the first time is probably a good bet. Taking the plunge and getting on the Tower of Terror will be one check off your bucket list. And if you survive that, then pretty much anything else you do while at the amusement park will be pretty darn entertaining. Especially getting the souvenir photo of you puking all over your friends on the kiddie teacup ride.
Change your Facebook Status
How many times have you found yourself checking out your Facebook account while holding a glass of vino in your hand? Although others will tell you that it's not a good combination, cyber stalking your so-called friends while making yourself look good at the same time is highly gratifying. No one else has to know that you didn't actually do that 10k run earlier that morning when in fact you were sitting on your ass eating that bag of Doritos right after polishing off the last of the Cherry Garcia in the freezer. They also don't need to know that your tall, dark and handsome boyfriend is actually a short, slobbery bulldog named Buster.
Hit On the Hotties
One of the best things about going out to a bar to have drinks at night is probably meeting new people. Except for the few friends you're with, no one actually knows who you are. What easier way to reinvent yourself and see if you can get the hot chick to go home with you? Make sure you have some original pick up lines ready too so that if you actually get the chance to talk to one of the girls in the bar, you won't stumble over what you want to say. Although chances are, the drunker you are, the dumber you'll be. Just hope that the girl is either as sloshed as you, or even dumber to fall for your cheesy ass lines.
Make a Dumb Tweet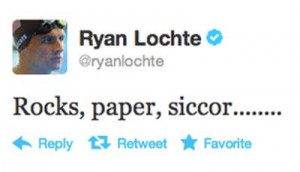 Tweeting while sober is sometimes a challenge in itself, but tweeting while drunk is even more arduous, especially if you don't want to look like a total idiot. Take our friend Ryan Lochte here. If he wasn't drunk while tweeting "Rock, paper, siccor….." then I would really love to hear his explanation for this one. Good thing he's such a good swimmer because I highly doubt he won any spelling bee's while in school.
Photobombing
The art of Photobombing requires a bit of expertise, and sometimes being drunk is an essential part to getting it just right. Knowing when to jump into the background unnoticeably by those taking the picture may take some time to perfect. But once you've done it, it becomes easier the next time around. Plus, the more plastered you are, the more fun it is to do. And even though you may never see those photos ever in your life, it's comical to know that you are part of somebody's cherished memories, whether they like it or not.
Saying Inappropriate Things
Being drunk is the one time that people's inhibitions are down, and supposedly the truth comes out. Brain farting is really at its finest when you've have more than your fair share to drink. When else do you actually have the courage to tell your girlfriend that "Yes, your ass looks huge in those jeans"? In reality though, the answer to that will always be never. Unless of course you're ready to hear that "Size really does matter."
Get Married in Vegas
If there was a better time to take a random trip to Vegas and get married, it's when you're not in the right state of mind. Never mind that you've only known each other for like, two minutes, but what other time can you completely blame the alcohol in your system for making a life long decision? Who knows? Maybe it'll even be one of the greatest decisions you'll have ever made in your life. Although highly unlikely, you'll probably at least get lucky, even if it is for just one night. Besides, doesn't the saying go, "What Happens in Vegas, Stays in Vegas?"
Get Inked

What's more entertaining than getting something permanently etched on your body when you're completely sloshed? As long as you're the friend getting to watch this happen and not the actual moron having it done, then this is definitely high on the fun list. And although there really should be some sort of test to take before being allowed to get a tattoo while being thoroughly pissed, it's much more amusing that this isn't the case. Just make sure to take lots of photos while watching this happen. That way, when your buddy wakes up the morning after with a massive headache and a burning sensation on his forearm, you'll have all the evidence to show him that he actually wanted to do it. Just be ready to bolt in case he wants to kick your ass for not stopping him from making one of the worst mistakes of his life.
Visit a Museum
If you're not exactly an art enthusiast, visiting a museum while tanked might be the best time to do it. If you can't seem to find the beauty in what others consider to be the world's masterpieces while you're sober, then being drunk might just do the trick. There will surely be more than a few pieces that will at least make an impression on you, regardless of whether you find them interesting or not. Precisely because of the drunken state you are in. And maybe to up the stakes even more, go to one of the museums that features real live people as works of art. If you still can trip out on them while drunk, for sure some others will be able to trip out on you.
Pig Out!
Getting totally wasted is already so much fun. Eating while being totally wasted is a whole other ballgame! Thank goodness for the 24-hour drive through restaurants and diners that are out there. Stuffing your face is never more satisfying than when you can hardly even remember what exactly it is you're eating. Pretty much anything you stick in your mouth tastes like a rib-eye steak even if it's just a stale, old White Castle burger and the greasiest fries in the world. Even if your stomach won't thank you the next day, the major hangover you would have will.
Fall Asleep in Random Places
Have you ever woken up completely disoriented, not knowing where you are? Drinking a whole bottle of Captain Morgan's rum and falling asleep in the most random of places will do that to you. Like maybe the sidewalk of the bar you were drinking in the night before? Or maybe even in the Taco Bell drive through that you attempted to order food from, but realized that you didn't actually have a car in the first place? Just hope that wherever you find yourself the next morning, you at least have an inkling of how the heck you got there and how far away you are from home. At least you know you're up for any kind of adventure!
Watch Movies With Your Friends
Watching movies when drunk seems like a senseless idea since your mind is already not working as great as it should, but when you are with friends and want to do something foolish, it is the most excellent option for you to pick a scary movie or a fun movie.
Here's the IMDb list of all the movies that you can watch when you are drunk: https://www.imdb.com/list/ls000527140/
Hang out with Friends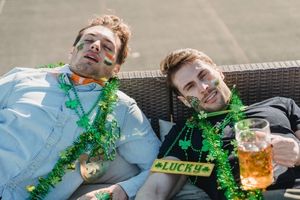 Bars and pubs are awful places to socialize, and the only way to make them tolerable is to get drunk there. Most drinkers would laugh at spending the night sober in a bar and say they'd rather stay in with Netflix and takeout. When you socialize, it's customary to attempt to socialize with others who share your interests so that you may chat about them. Because the only thing that individuals at bars have in common is that they are drunk, the discussions are usually terrible.
So, instead of spending the night at some bar together, you can hang out with your friends and go for a walk with friends or sit on a park bench together.
Eat at a 24/7 Restaurant at a Weird Hour
Going to a 24/7 restaurant at an odd hour, like in the middle of the night or right before sunrise, is precisely what they exist for. You can go there with your friends and try to act all sober. It is like a fun game in itself, and you can bet that none of you would stop laughing doing that.
Play a Video Game With Your Friends
In the same way that individuals like drinking in other social circumstances, video games like Mario Party and Rock Band can be a lot of fun intoxicated.
You can also play scary video games like Resident Evil 7 or Silent Hill 2. You are in the ideal state to appreciate these challenging games when inebriated. Alcohol can make you not stiffen up at every little sound and sight. You would typically get startled a lot less readily when intoxicated, so reflexes and muscle memory aren't really important while playing this game.
Try to Play an Instrument at Home
It could be a lot of fun to try to play piano or guitar for the first time when you are drunk. You can even make a fun game out of it with your friends. You get to drink another sip if you play it right, and you get to cut down a sip if you end up playing it wrong. It could turn out to be a lot of fun for you!
Chat with Complete Strangers in the Restrooms
Yes, people do that, and yes, it can be a lot of fun sometimes. You can just do or say anything in front of them without really feeling any kind of embarrassment or shame since you are all intoxicated, and they are strangers, so no one is judging you for that. Plus, you never know what kind of person you can meet there, you can even exchange numbers, and maybe you will become friends for life.
Leave a Mean Comment on Someone's Status
Whenever you are sober, you know that you would not do something mean to someone, even if it's a toxic ex-boyfriend or an old friend with whom you maybe had a huge fight or don't like anymore. Well, now is your time to show them that you are not really that boring person that they always thought. You can be mean too, and like, really mean!
Tell your Friends Exactly What You Think of Them
This can be one of the best and most meaningful conversations you have ever had with your friends. When you are friends with someone for a long time, and you both share a connection that you feel like something that cannot be explained, why not try to explain that unexplainable thing. It might turn out easier than when you are sober, or you might end up dozing off, but you would have still made an excellent memory out of this experience.
So before you decide to go out for a night of drunken debauchery, remember a few essential things before leaving home. First, make sure your cellphone is fully charged so that if you need to order more drinks, drunk dial an old flame or get the number of a hot chick, you'll have the means to do it. Secondly, be open to a whole barrage of possibilities. You never know where exactly the night will take you or who you'll meet along the way. And lastly, be sure to have as much fun as possible. Because if you can't manage to have loads of fun while being thoroughly plastered, then you must be one very boring dude.
Also Read –
100 SHOTS OF BEER IN 100 MINUTES – CENTURY CLUB CHALLENGE
25 DRUNK JENGA IDEAS FOR BLOCKS TRY NEXT TIME
POWER HOUR DRINKING GAME (RULES & HOW TO PLAY)