When we think of Ireland, images of rolling green hills, shamrocks, and four-leaved clovers probably come to mind. When we think of alcohol in Ireland, a pint of Guinness might be the first thing that you think of! The dry Irish stout is one of many classic Irish alcoholic beverages that people from Europe love. However, if you're in the mood to celebrate St. Patrick's Day with a drink that's a bit more festive and colorful, then we'd suggest an Irish Trash Can. 
Before you worry about the name of this drink, you can rest assured that its contents are delicious, flavorful, and extremely boozy, which means that they'll be an instant party favorite. Try and force your mind not to think of an overflowing dustbin packed with garbage, and instead, picture a bright blue and green drink served in a tall glass filled with ice.
In this article, we'll take you through what precisely an Irish trash can is, what you need to make one, and where its name comes from!
Let's get right into it.
What Is An Irish Trash Can Drink?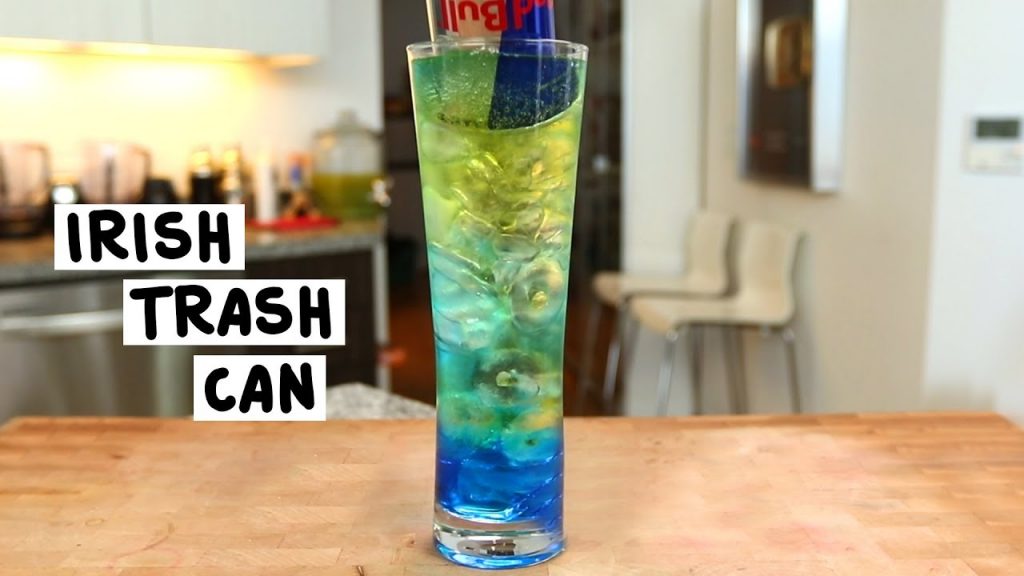 An Irish trash can drink is quite a potent and large cocktail filled with more alcohol than mixers. It tastes pretty fruity and delicious, but please remember to drink responsibly when ordering one at a bar! It contains six different types of alcohol and only one mixer, so if you're looking to have a good time, then just one of these drinks will help you get there!
What is an Irish trash can made of?
While this drink might sound unappealing because of its unconventional name, it contains a series of ingredients that are all delicious. It consists of vodka, gin, rum, Blue Curacao, Triple Sec, and a can of Red Bull.
Irish Trash Can Drink Recipe:
Even though this drink has a lot of ingredients, it's pretty easy to make. You don't need a lot of fancy equipment either. However, please note that if you're not much of an at-home cocktail person, you might need to purchase some of the ingredients before making them.
Here's everything you need.
Equipment:
Ingredients – What's In An Irish Trash Can?
0.5oz of vodka
0.5oz of gin
0.5oz of light rum
0.5oz of Triple sec
1oz of Blue Curacao
0.5oz of Peach Schnapps
One can of Red Bull or any other energy soda
Lots of ice
Instructions – How to make an Irish trash can?
The steps to making an Irish trash can are almost embarrassingly simple! Here's how you make one:
Fill your tall glass with ice.
Pour each of the different alcohols over the ice. We'd recommend that you pour the Blue Curacao first, and then all of the others.
Once you've added each of the alcohols, stir them gently, but don't overmix the drink. You don't want to overmix so that the blue of the curacao is easily visible!
After you're sure you've mixed the alcohol enough, open a clean can of Red Bull and turn over inside the glass. Don't remove the can, but let it remain there before serving. If you can't find Red Bull, you could use a can of Monster Energy instead.
Nutrition
The average Irish trash can has around 350kcals in it.
Irish Trash Can Drink vs. AMF
As we've learned by now, the Irish trash can contains six different types of alcohol, and many cocktail enthusiasts believe that this drink has a lot in common with the AMF.
The AMF is another potent cocktail containing most of the ingredients that an Irish trash can does, except for the peach schnapps being replaced by a couple of ounces of sweet-and-sour mix. If you look sweet-and-sour mix up online, you'll quickly find that most websites will dissuade you from purchasing it in a supermarket because it contains artificial ingredients. Instead, you can make your simple sugar syrup at home and infuse it with some freshly squeezed lime juice.
The other difference is that instead of Red Bull, the AMF contains Sprite or 7 Up.
Final Words
In this article, we showed you how to make the Irish Trash Can, a boozy and delicious cocktail that will help you get the party started once you've downed one of them!
FAQs
Why is it called an Irish trash can?
The name 'Irish trash can' comes from two things. The Irish part comes from the fact that this cocktail turns green when you combine all the ingredients in it, and the trash can part comes from the variety of alcohol that you pour into one drink and then finish with a can of Red Bull on top.
How much does a trash can drink cost?
The average Irish Trash Can costs around $9 to $15.