Now Showing Movies Might Have Missed – And Need To Watch
|
Raring to watch a movie with your family, buddies, special someone, or heck – just yourself? Give yourself a treat and head over to Cairns Central cinema to catch these movies. Afterwards, you can shop in over 180 stores in Cairns Central.
Bad moms (Runtime: 101 minutes)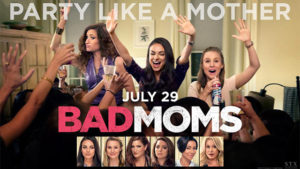 This comedy was created by the same people who wrote The Hangover. Amy (Mila Kunis) has a seemingly happy, perfect life – awesome marriage, beautiful home, over-achieving kids, and a career. The thing is, she's overworked, overcommitted and exhausted to the point of burn out. Finally snapping, she joined forces with two other overstressed moms on a mission to free themselves from the standard mom responsibilities. They went on a wild, un-mom-like binge of fun and self-indulgence, going against Queen Bee Gwendolyn and her devoted "perfect moms."
Suicide Squad (123 minutes)
From the Director of Fury and End of Watch comes this highly anticipated DC movie – Suicide Squad is every geek and comic fan's most awaited DC film to date. Suicide Squad casts Jared Leto as the Joker, Margot Robbie as Harley Quinn, Will Smith as Dead Shot, Cara Delevingne as Enchantress and many more. The Super Villains were tasked to a mission to defeat a mysterious and insuperable entity. Will the Suicide Squad die trying or decide to follow each one's own interest?
Jason Bourne (123 minutes)
Yes, he's still alive and yes, he's still on the run – this time, not from, but to the people who wronged him. The next chapter of the Bourne franchise finds the CIA's most lethal former operative out of the shadows and once again in the middle of it all. If you're a fan of the franchise, then you absolutely can't miss this.
The Shallows (87 minutes)
You've watched Shark movies before, but none of them can prepare you for The Shallows. This thriller movie stars Blake Livery as Nancy, who find herself on the feeding ground of a great white shark while surfing on some secluded beach. She's just 200 yards away from the shore, but that distance proves the ultimate test of wills, requiring her the resourcefulness, ingenuity and fortitude she can muster. As the trailer said, it's not another day at the beach,
Sausage Party (89 minutes)
This adult animated movie is about a misplaced sausage and his food friends on a journey of existential adventure from the aisles of a massive supermarket to a kitchen's family. This movie is made funnier by the voice performance of Seth Rogen, Jonah Hill and James Franco. As the supermarket's annual 4th of July sales draw near, the perishable friends must return to their rightful places on the shelves before the customers come flooding their carts.
Yeah, we put this down here for a reason. This film is rated R for strong crude sexual content, pervasive language, and drug use. Yep, it's that kind of movie.
Found a movie you or your friends will enjoy? Head over now to Cairns Central Cinema for your weekly dose of entertainment.