WWE Mobile Subscription Site Redesigned and now with Extra Functionality
|
A fan review about the WWE Mobile Content Club which is available to subscribed members in the UK.
The WWE Mobile Content Club subscription based website in the UK has recently been redesigned and extra functionality has been added. As a massive fan of this site I've reviewed these changes and provide all the information you will need to decide whether to become a member yourself. Once subscribed you can consume as much WWE content as you can possibly handle!
Recent changes on the WWE Mobile Content Club
The WWE Mobile Content Club has recently been remodelled bringing subscribers a greater level of functionality as well as a new and improved interface design. Many other new features have been added to the WWE Mobile Content Club in this most recent update. These changes significantly enhance the overall user experience and value obtained from membership of the club.
Core search functionality added
With the vast amount of content now on the website (which is growing all the time) there was a need to simplify functionality relating to search and retrieval of content. Search functionality was particularly important so functionality has been added to search:
Sort by date – Simply enter the date of the match you are interested in and the search will retrieve the WWE matches for that date
Sort by category – Sort from a range of categories, e.g. ringtones, video clips and wallpapers
Sort by popularity – Sort the content based on its popularity with members. This is particularly useful to "stumble" upon content you may otherwise not have watched
The above search options have now all been included within the site and from my conversations have proven extremely popular with other members. Previously it was getting increasingly hard to find the content you wanted and the above changes make a big difference to the usability for members of the site.
Find WWE superstar content like Becky Lynch with ease
Other search functionality enhancements
Another related improvement included was the ability to search by WWE superstar. The WWE has many superstars to choose from, here are just a few examples:
Male superstars – Brock Lesnar, Jimmy Uso and Kaneetc.
Female superstars – Alexa Bliss, AJ Lee, Brie Bella, etc.
It seems that everybody has their favourite WWE superstar. So functionality was needed to find a quick way for members to find their selected superstars content. This was a commonly requested feature amongst us users and now with a few clicks we can find content relating to a specific WWE superstar we want to view.
Just as important as finding content was its later retrieval so "favourites" functionality was also added recently where members could simply click on a piece of content and then this would be stored in their profile for later ease of retrieval. This content could be a WWE video clip, wallpaper or ringtone. Also, the favourites functionality is frequently used to favourite an individual WWE superstar; I use this feature all the time for retrieving content quickly, it is a real time-saver.
In summary the WWE Mobile Content Club is now much more user-friendly thanks to the improved intuitive design which is also cross-browser compatible and also the previously discussed advancements in the use of search.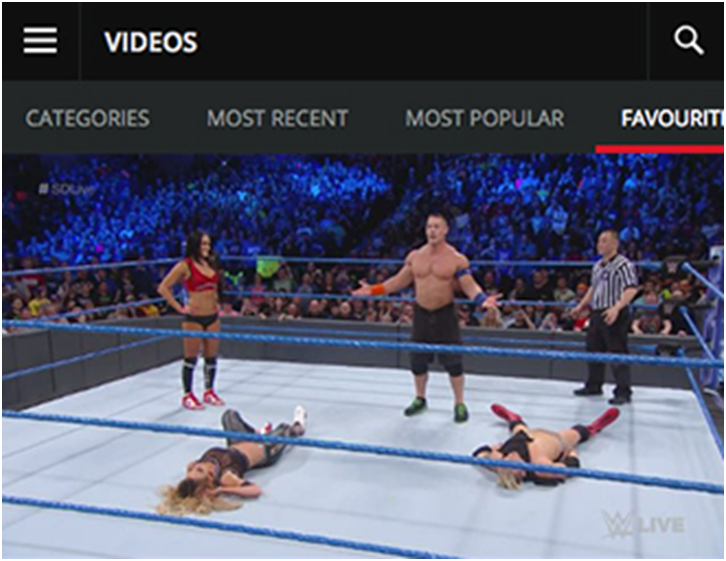 A screenshot from the updated WWE Mobile Content Club website
Facts and information about the WWE Mobile Content Club
The WWE Mobile Content Club is a subscription based site which contains a fantastic treasure trove of resources for fans of the world of WWE. Included within the content of the website are 2,000+ pieces of content(which is growing very rapidly every week) from all the popular WWE shows such as RAW, SmackDown, NXT and other shows which are broadcast too.
Video clips are only part of the offering though as additionally there are a large selection of four hundred plus wallpapers as well as ringtones of all the superstars in WWE. Fans of WWE know that wallpapers and images are often important as we love to have a visual reminder of our favourite WWE superstars. Members collect these images by downloading them; this applies to both the male superstars like John Cena, AJ Styles and Chris Jericho as well as the female superstars such as Alexa Bliss, Becky Lynch and Sasha Banks. All these superstars as well as many others are all available to the members of the WWE mobile content club.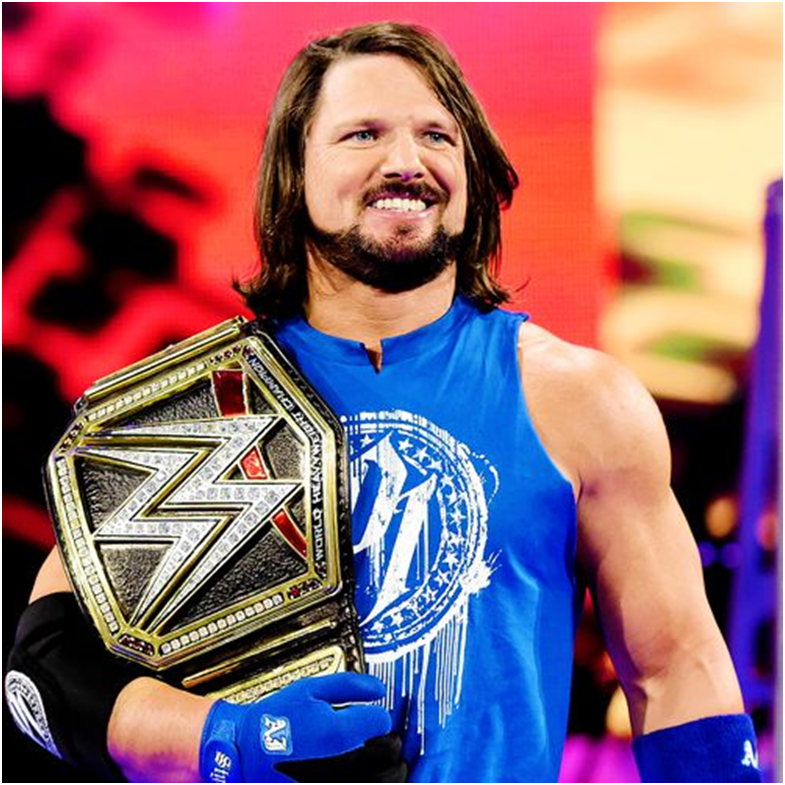 One of the superstars of WWE, AJ Styles
The website content is available across all mobile browsers including Android, Chrome, Internet Explorer, Opera, and Safari. There is absolutely no installation necessary to use the website as video clips and other content can be streamed real-time. Wherever you have an internet connection you will be able to access the WWE Mobile Content Club.
Zero advertisements
Let's be honest there is nothing worse than wanting to watch some action only to find an advert playing when you click the play button or perhaps even worse when one plays in the middle of a video! This will not happen with the WWE Mobile Content Club, which is entirely free of any advertisements, this makes for a radically improved user experience.Advertisement free subscriptions can also be important to parents like me who also subscribe to the WWE Mobile Content Club with their children, as they don't have to worry that the content of advertising may not be appropriate.
Your children will love watching WWE action with you at the Mobile Content Club
Subscription and billing
The content is only available to subscribed members, so it's essential to subscribe to gain access to the WWE Mobile Content Club.
Billing is very convenient with club members being invoiced on a regular basis via either monthly bills or user pay as you go tariffs. Billing arrangements are in place with all the popular networks like EE, Vodafone and O2.
I can't speak to highly about the club and I strongly recommend it to all fans of WWE, you won't regret this subscription!
Image Credits: James North,Ruhul Amin and Claire Sewell